Safeguarding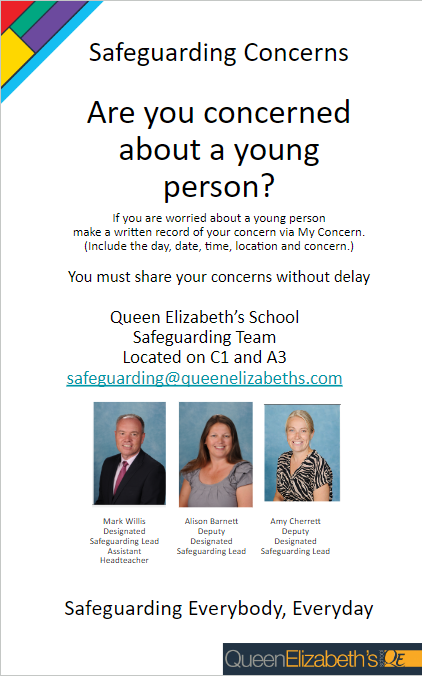 Queen Elizabeth's School Safeguarding Policy - September 2023
Child on Child Policy
OnLine Safety Policy
Youth Involved Sexual Imagery Policy
Queen Elizabeth's School Wimborne recognises that the welfare of the child is paramount and takes seriously its responsibility to safeguard and promote the welfare of the children and young people in its care. Mr Mark Willis is the Designated Safeguarding Lead and the Deputies are Miss Alison Barnett and Mrs Amy Cherrett. All have had specialist training in Safeguarding and Child Protection. If you have any concerns please contact one of the members of staff above on the School number which is 01202 885233 or email safeguarding@queenelizabeths.com
If the school is closed seek support or make a referral by contacting:
Dorset 01202 228866 - MASH@dorsetcouncil.gov.uk
Bournemouth, Christchurch & Poole Council: 01202 735046
NSPCC helpline on 0808 800 5000
The Police on 101. If you believe a child is in immediate danger, call 999
Operation Encompass
Government Guidance
E-Safety
At Queen Elizabeth's School, we take e-safety extremely seriously. We believe that it is the right of all children to feel safe and secure when using technology. We teach children to use the internet and other technologies safely, and we show them how to behave in an appropriate manner. They know what to do if they feel uncomfortable with anything they see or hear either online or through other technology such as mobile phones.
It is important to encourage a healthy lifestyle with regard to the use of technology, and teach children about the risks of exposure to inappropriate content or too much time in front of a screen.
We show children how to keep their data and security safe, and we teach them to be critical of the things they see online. Our e-safety policy and ICT policy hold detailed information about how we ensure our children remain safe in their use of technology. If you have any questions or queries about e-safety then contact Mark Willis who is the e-safety officer for the school.
Parents and Carers
It is really important that parents and carers work with us to ensure children stay safe in their use of technology. When we talk about e-safety, we are not just talking about the internet. We are talking about the use of computers, games consoles, mobile phones, televisions, tablets and many other things.
Sexting
'Sexting' is an increasingly common activity amongst children and young people, where they share inappropriate or explicit images online or through mobile phones. It can also refer to written messages. As a parent, it is important to understand the risks so that you can talk to your child about how to stay safe and what to do if they ever feel scared or uncomfortable. Please see this link for more information;
nspcc.org.uk/preventing-abuse/keeping-children-safe/sexting
The websites below provide a comprehensive list of links and information about online safety so parents, and their children, can decide what is right for their family when using the Internet and associated technologies.
Self-Harm
'You are not alone': a guide for parents on coping with their child's self-harm - produced by the Department of Psychiatry at the University of Oxford.
www.psych.ox.ac.uk/news/new-guide-for-parents-who-are-coping-with-their-child2019s-self-harm-2018you-are-not-alone2019
e-Safety Websites
Child Exploitation and Online Protection Centre (CEOP)
"CEOP works with child protection partners across the UK and overseas to identify the main threats to children and coordinates activity against these threats to bring offenders to account. CEOP protects children from harm online and offline, both directly and in partnership with local and international agencies." Click on the link if you or somebody you know of has been, or may be, the victim of on-line harassment, bullying or exploitation.
Internet Watch Foundation (IWF)
Click on the link if you have discovered any offensive websites or obscene content on the internet. The Internet Watch Foundation has the power to shut these sites down. To minimise the availability of potentially criminal internet content specifically:
Child sexual abuse content* hosted anywhere in the world.
Criminally obscene adult content hosted in the UK.
Non-photographic child sexual abuse images hosted in the U
National Crime Agency's CEOP Education
The National Crime Agency's CEOP Education team aim to help protect children and young people from online child sexual abuse.
They do this through their education programme, providing training, resources and information to professionals working with children, young people and their families.
ChildLine
Childline offers help and advice to children who are worried, concerned or at risk in any way. If you would like to contact an impartial person to discuss any issues that you may be finding difficult, please click on the link below or ring the number shown.
MIND
Click on the link below if you would like to make contact with an impartial person to speak to if you, or someone you know of , may be feeling depressed, anxious or suffering from any sort of mental illness.
"We provide advice and support to empower anyone experiencing a mental health problem. We campaign to improve services, raise awareness and promote understanding."
Talk to FRANK
FRANK helps you find out everything you might want to know about drugs (and some stuff you don't). For friendly, confidential advice, Talk to FRANK. Click on the link below if you have any queries, or are concerned about any one, in relation to drug, alcohol and substance abuse.